Oh, the Places You'll Go! (with sable cookies)
— Cooking, Baking, Cookies — 2 min read
Disclaimer: This is a retelling of a WSJ recipe by Adina Steiman because I just liked it so much
They say baking is a science, but cooking is art. I tend to agree but there are exceptions, and the sable cookie is one of them. They are a classic butter cookie, but the variations you can make with them are numerous - and the experimentation that comes from adding in what you like give this recipe a very 'cooking' feel when making them.
The following recipe is for one of my favorite variations - Apricot, Rosewater and Pistachio:
Recipe
What you need
Ingredients
11 Tablespoons of European Style Unsalted Butter (e.g. Plugrá, Kerrygold)
1/3 Cup White Granulated Sugar (~70g)
1/2 Teaspoon Flaky Sea Salt / Kosher Salt (e.g. Maldon, Diamond Crystal)
1 3/4 Cups of All Purpose Flour (~210g)
1/3 Cup Chopped Dried Apricots
1/2 Cup Unsalted Chopped Pistachios
2 Teaspoons Rosewater
[Optional] Decorative/Sanding Sugar (e.g. Sugar in the Raw)
Tools
Rubber Spatula
Mixer (or by hand in large bowl)
Scale
Plastic Wrap
Baking Pan or Cookie Sheet
Parchment Paper
What to do
Butter/Sugar Mixture
1) Place the butter in the mixer and mix on low/medium for a one to two minutes until soft
2) Add in the sugar and mix again until they are completely combined, another one to two minutes
Keep this mixture cold! If the subsequent steps take a while, throw your bowl with the mixture into the fridge
Butter/Sugar Mixture → Mixed Together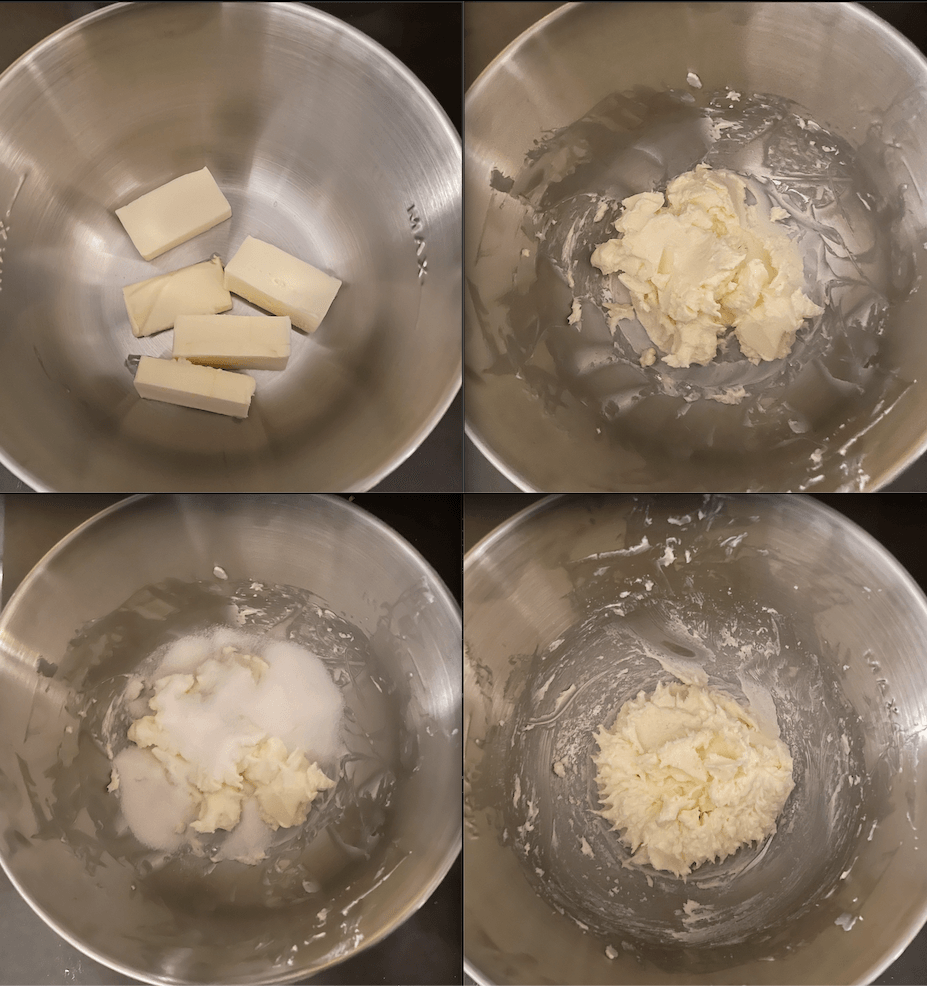 The Variation
3) Chop up the dried apricots and the pistachios and add to the bowl. Save a bit of the chopped pistachios to the side
From my time baking these, I've found they are better when you overdo the pistachios and under-do the apricots
4) Add the salt and rosewater to the bowl as well, and mix until combined, around 1 minute
After Variation Ingredients → Mixed Together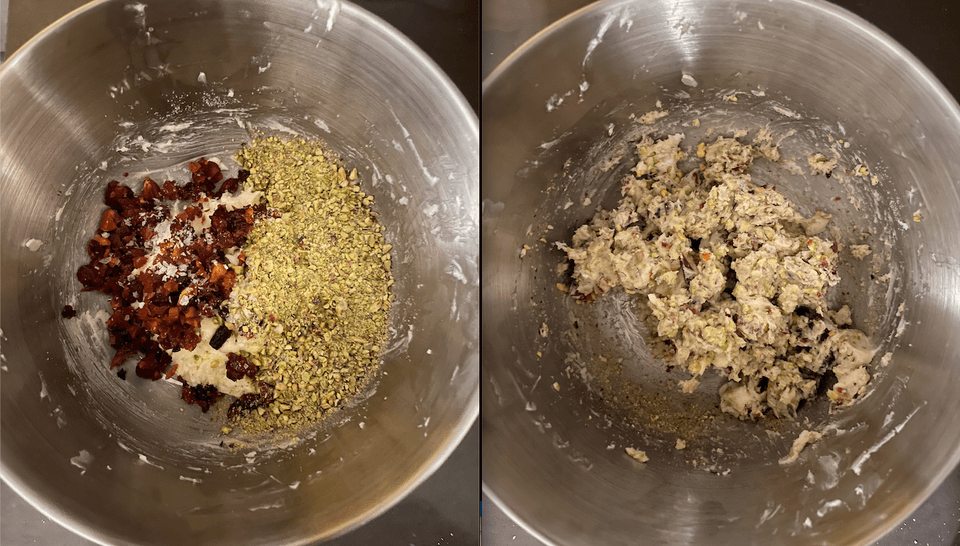 5) Add the flour and do a final mix to let everybody get to know each other. The dough should be crumbly but still moist, like wet sand
After Flour → Mixed Together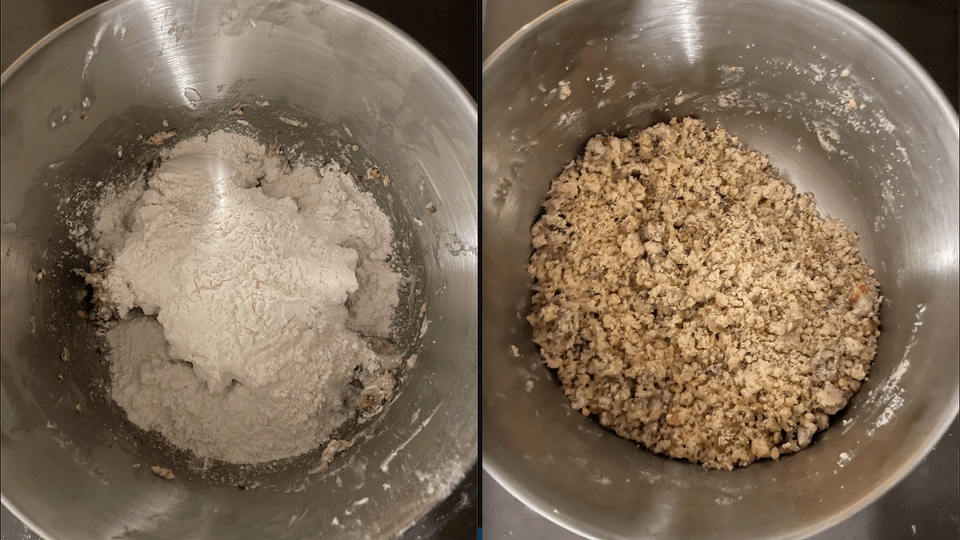 Wrapping and baking
6) Lie down a large plastic wrap square layer and add your final mixture on top. Using your best sand castle/play dough skills, make a cylinder with a 2" diameter out of the dough using the plastic wrap. Roll around the log with the extra chopped pistachios and optionally the sanding sugar.
7) Refrigerate the wrapped dough for a minimum of 2 hours, ideally overnight
8) Take out the dough, unwrap the plastic, and using a harp knife, cut the dough log into cookies that are about 3/8" thick
After Wrapping → Refridgerating Overnight → Cutting & Baking

9) Lay them on your parchment lined baking pan and bake on 325°F degrees for 10 min, flip them over and bake for 10 more minutes. Let rest for 10 minuts and eat!
Final Product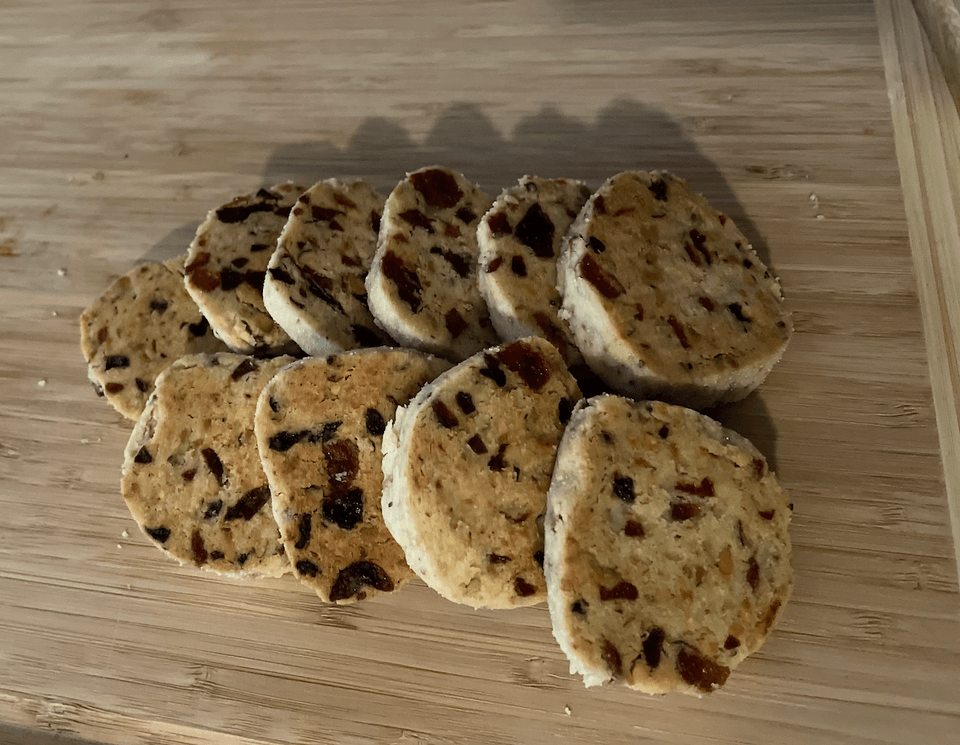 FAQ
What are some other variations?
The WSJ article talks more about some alternatives but here's a few to get started (use these in lieu of the steps in the 'Variation' section):
Salty Double-Chocolate Chunk
1 3/4 Cup Flour -> 1 1/2 Cup Flour + 1/4 Cup Dutch Cocoa Powder (beat into butter-sugar mixture)
Add in 3 ounces of chopped semi-sweet chocolate
Coat dough log with flaky sea sat
Top cookies with flaky sea salt
Strawberry and Black Pepper
1 3/4 Cup Flour -> 1 1/2 Cup Flour + 1/2 Cup pulverized frozen strawberries (with food processor)
Add in 1/2 Teaspoon Freshly Ground Pepper
Chai Spice
Add in 1/4 Tsp Ground Cardamom, 1/4 Tsp Ground Cloves, 1/4 Tsp Cinnamon, pinch black pepper and 4 Tsp of lightly crushed black tea (e.g. English Breakfast) to the butter-sugar mixture
Arvind, the decorative sugar adds a nice touch to the appearance and taste, why is it optional?
I forgot to buy it when making these 😔
What is the legality of copying recipes?
As a once aspiring lawyer after watching a few seasons of The West Wing, I was curious about this too. It seems that recipes aren't protected by copyright law.